Hiroshi Yamauchi died Nintendo's legacy
Hiroshi Yamauchi died Nintendo's legacy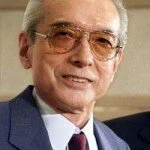 Yamauchi, at the helm of the Japanese firm for over half a century, was the third generation of a family that founded a business manufacturing playing cards in the former Japanese capital of Kyoto in 1889 and was president from 1949 to 2002. He then served as executive consultant until his death.
Former Nintendo president Hiroshi Yamauchi, responsible for transforming the company experienced a manufacturer of letters to a video game giant, died Thursday of pneumonia at age 85, the company said in a statement.
Under his leadership, the company developed the iconic console Famicom and Game Boy handheld, two developments that prompted Nintendo to be the leader of an era marked by the transfer of video games of recreational facilities to homes.
With the Wii console managed to revitalize the firm before the advances of the proposed Microsoft and Sony with the Xbox and PlayStation. However, the renewal of these platforms in recent years left behind Nintendo, despite its launch the successor to the Wii U console.
Yamauchi appeared in Forbes magazine as the richest man in Japan just five years ago, when Nintendo dominated the industry with the launch of the Wii, but the fortunes of the firm is no longer the same since smart phones and tablets have shifted to consoles as gaming machines. His net worth at the time was estimated at 7.8 billion dollars.