The strike and take their Grand Theft Auto V
The strike and take their Grand Theft Auto V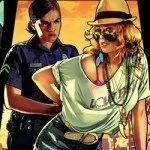 Police say he was attacked shortly after buying the game, showing extreme violence and street crime.
The man was hit with a brick and stabbed before being stripped of the anticipated video game Grand Theft Auto V, which was officially launched on Tuesday.
British buyers lined up outside stores that opened at midnight for the latest installment of the game.
Experts believe that the fifth version of Grand Theft Auto could sell 25 million copies, generating $ 1,500 million during its first year on sale.
Since its inception in 1997, Grand Theft Auto, also known as GTA has sold 135 million copies