A Galaxy Note III of low cost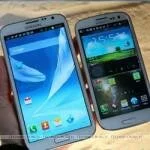 A new rumor has raised an interesting possibility that, all told, it makes sense.Samsung Galaxy Note could launch a low cost III, ie, a low-cost version of its new directed phablet probably emerging markets.
It seemed that we knew "everything" about the Galaxy Note III. Yes, two versions of each techniques and even their alleged filing date specs, but nothing is further from reality.
The reason? Imposing tough competition and other terminals that offer low-cost firms like Xiaomi, Huawei or ZTE. All three offer excellent quality products and services at prices that break, increasingly, the smartphone market.
Well, but what Samsung cut in that version? Well according to the rumor enough. First, the LCD screen would not SuperAMOLED, while in the second the low cost SoC version would be less powerful. Finally the cuts would also affect the rear camera, which would lower the 13 MP to 8 MP, and possibly its casing.
This last point is important and we should qualify it. Samsung jumping aluminum detriment of plastic is an open secret that we've heard before. Well, according to this rumor the Galaxy Note III low cost could come in plastic, while the standard version would come with a metallic finish. 
Keep in mind that all this is the result of a rumor and that currently do not have confirmation.