Add the YouTube app for Windows Phone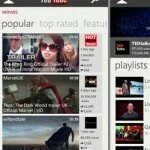 After what became the first release of this app for Windows Phone, Google decided that the YouTube app for the smartphone was not the most appropriate. Making the app was removed from the market.
Microsoft aware of this problem, I quickly made a few changes to make the application better performance YouTube for Windows Phone, one of those performances is to have the ability to upload videos through this smartphone.
Microsoft argued that advertising could add if Google would give access to the YouTube APIs, but the blockade was part of a strategy for Windows Phone not count with options to view videos on the site.
The option to edit your user profile and put a "pin" on the home screen with videos, playlists or user accounts are also added.


0


0