Google Music Timeline of a walk through history
Google Music Timeline of a walk through history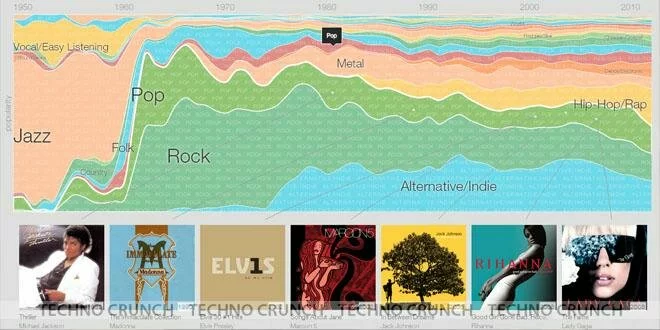 Google introduced Music Timeline, a platform that generates graphs in the form of colorful timelines, show the evolution of music genres and artists throughout time.
As explained Cichowlas Allison and Tony Lam, Google Research team in an entry on his corporate blog, Google Music Timeline consists of a display showing how music has been resisting-or not the passage of time, and how the different genres and artists have risen or fallen in popularity over the decades.
Constructed from data of Google Play Music, the music service streaming Internet giant, Music Timeline represents the changes since 1950 in the following genres: Vocal, jazz, country, folk, pop, rock, metal, world music , reggae, ska, gospel, dance, hip-hop and alternative-indie.
It is a journey through the history of music in the period between 1950 and 2010 through a graph can click on a specific genre that accesses a more detailed graph, which describes the evolution of the popularity of this musical style, with its ups and downs for years and decades and their subgenres, besides pointing out some examples of representative artists.
Visit: Music Timeline | is a walk through the history of music