Inka Madness, the game that won smartphones
Inka Madness, the game that won smartphones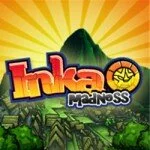 It is a 2D platform game with elements of exploration, action and RPG, available for Windows Phone and iOS.
The game tells the story of Atuq, son of the ruler Tupac Qhari, an Inca warrior who has the mission to save the Inca Empire and free his brother from the evil spell conjured by curaca Phawak.
The history that we must overcome the culture and history mixed with a lot of action in the game, ideal to know some details of our country while we have fun.
Chan Chan, Kuelap and the Ruins of Machu Picchu, are the scenarios where the adventure happens and why Atuq will have to overcome obstacles and face Phawak in the 12 levels the game has.
The player has a set of skills that will help you on your journey: you can use a slingshot to throw stones, and magic items created by him, among other things.
Regarding the control of the game, what happens happens across mobile version: it is vague, but we can not compare it to a control, did I not. Meets expectation and practice we can handle it perfectly.
The game has been well received in other countries like Mexico, United States, Spain, Costa Rica, Colombia, and-of course-Peru, so it is highly recommended and, most likely, is that also your kids will love.

The first five levels are free, but if you want to play the full version you will have to pay $ 1. If you still do not have it and want to play, download it from the online stores in which Inka Madness is available.